Detail Description
Position Indicator Description:
When fixed to the spindle, it can display the movement of the display.

1) Fixing to control spindles in any position, easy for reading the spindle movement.
2) Four or five digitals display.
3) Axial pitch from 0.5mm to 10. 0mm.
4) Steel insert: 14mm, 20mm, 25mm or 30mm.
5) Torque pin for mounting.
6) Mounting Position: 4 types
7)Counting Direction: Clockwise increasing or Anticlockwise increasing
8) Color: Orange or Black
Those position indicators are used in various machinery regions, such as woodworking machine, packing machine, printing machine and so on. They are easily mounted on the spindle and control position variable, distance between rollers, gate widths, valves. Or any other equipment controlled by rotary or screw motion.
Position Indicator Mechanical data:


Feature
Techinical data
Counter
5 decades, fine reading
Digit Height
approx. 7mm
Housing
Plastic, reinforced
Wight
0.1 kg
Ambient temperature
max. +80¡ãc
Position Indicator order code: SG0912-1.0-I-20-O-A
| | |
| --- | --- |
| SG09 | Model: SG09 |
| 12 | MOunting position: 12 |
| 1.0 | Axle Base: 1.0mm |
| I | Counting direction: I= clockwise increasing E= Anit clockwise increasing |
| 20 | Hollow shaft: 20mm (standard) |
| O | Housing color: O=Orange S=Black |
| A | A= form A B=form B |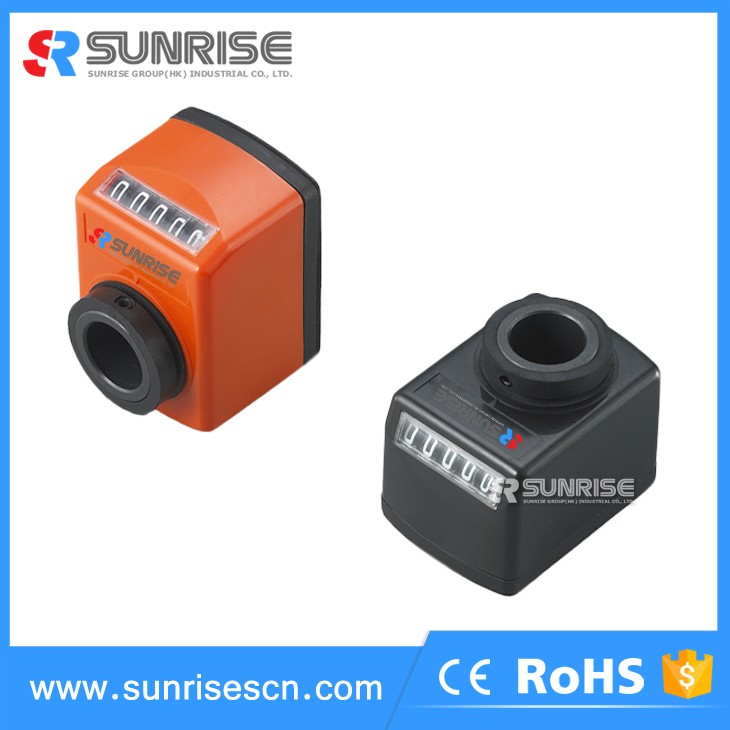 *Textile machinery: fiber twisters, treatment machines, weaving machines
* Metal fishing systems: extruders, wire stretchers, presses, welders, steel wire retractors, cutters, pipe makers, wire winding machines
*Machine tool systems: lathes,
* Millers, steel extruders, CNC lathes, specialized machinery
* Transportation equipment: hoists, feeders, conveyors, rollers, winders
* Paper- making systems: bag-making machines, box-making machines, slitters, book-making machinery, cutters, copy paper machines
Still frustrated about your powder brake, powder clutch, air shaft or safety chucks, tension controllers? And looking for available and enduring ones with warranty?
You¡¯ve come to the right place!
Established in 2003 and located in Dongguan city, SUNRISE GROUP INDUSTRIAL CO., LTD is a professional manufacturer and trader of powder clutches, powder brakes, electromagnetic clutches, electromagnetic brakes, air clutches, air brakes, air shafts, safety chucks, rollers and tension controllers. You name it, we specialize in it!
Due to the positive image and quality products, SUNRISE GROUP INDUSTRIAL CO., LTD has gained a large share of the market, along with the products sold in over 30 countries and regions, including US, Mexico, Colombia, German, UK, Australia, Italy, Spain, Portugal, Russia, Korea, Malaysia and eastern European countries etc...
1. When can I get the quotation?
We usually quoted within 24 hours after receiving your inquiry. If you are very urgent to get the price, please call us or tell us in your email, so that we can regard your inquiry priority.
2. How should I place the order?
Please let us know the model number based on our specs for powder clutch, powder brake, air clutch, air brake, electromagnetic clutch, electromagnetic brake and safety chucks. For air shaft and roller, please show us your drawing, or let us know your request, and then we will provide you drawing for confirmation.
3. What¡¯s your MOQ basis?
Normally, we don¡¯t have MOQ request, except the rollers.
4. What about the lead time for production?
Honestly, it depends on the order quantity and the type of our products. For powder clutch, powder brake, tension controller, load cell and edge position controller which is about 3-5 days. For safety chucks, air shaft and roller which need about 15-30days.
5. What is the term of delivery?
We can arrange with EXW, FOB, CIF¡­etc. You can choose the most convenient one or cost-effective way.
Next£º
Electromagnetic clutch MCS-1
Previous£º
Position indicator SG09